Can You Go to Urgent Care for Chest Pain?
When you experience chest pain, it's common to wonder if you must go to the emergency room immediately. Urgent care also provides treatment after hours, which may be a better option in some situations. You can undoubtedly go to urgent care for chest pain, but you should be aware of the symptoms that indicate you should go to the ER instead.
When to Visit an Urgent Care
Chest Pressure or Discomfort
Not all chest pain has the same level of severity, and if yours feels like discomfort or pressure, then urgent care will likely be enough to diagnose and treat your issue. Some common causes of this type of pressure or discomfort include anxiety, pulled muscles, heartburn, GERD and extreme acid reflux.
Pain Severity Varies With Movement
If you can move around, pay attention to whether the pain fluctuates as you do so. If the chest pain changes when you move, it is most likely not related to your heart. Instead, it can be due to a non-serious condition, such as a muscle strain.
Even if it is just a muscle strain, it is still smart to visit urgent care. The doctors there will be able to rule out anything more serious. They can also recommend physical therapy or OTC pain medicines.
Pain Includes a Burning Sensation
Chest pain or discomfort can be due to GERD or heartburn. This is more likely to be the case if you are also experiencing a burning sensation. These conditions result from stomach acid moving up the esophagus, leading to a burning sensation.
In the case of mild heartburn, urgent care physicians may suggest over-the-counter antacids. They may prescribe stronger medications if you have already tried those or have more severe symptoms.
What to Expect at an Urgent Care
When you visit urgent care, expect the doctor to ask about your other symptoms and perform a physical examination. They may also order blood work or an EKG, depending on the exam. These will help your doctor rule out the possibility of severe conditions.
When to Visit the Emergency Room
While an urgent care center is well-equipped to treat your chest pain in the above situations, there are some scenarios when you should go immediately to the emergency room. If you notice any of the following symptoms in addition to the chest pain, call 911 or go to your closest ER:
The chest pain comes on quickly, is severe and doesn't go away.
Tightness, pressure, or squeezing in the chest
Dizziness or lightheadedness
Vomiting or nausea
Pain radiating to your back, jaw, neck, or arm
Shortness of breath
Rapid heart rate
Abnormally low heart rate
Sweating
Loss of consciousness
Confusion
If you need to go to the emergency room for chest pain, do not drive yourself. Have someone drive you or call 911.
Get Medical Attention for Your Chest Pain at Bayhealth Total Care's Emergency and Urgent Care Center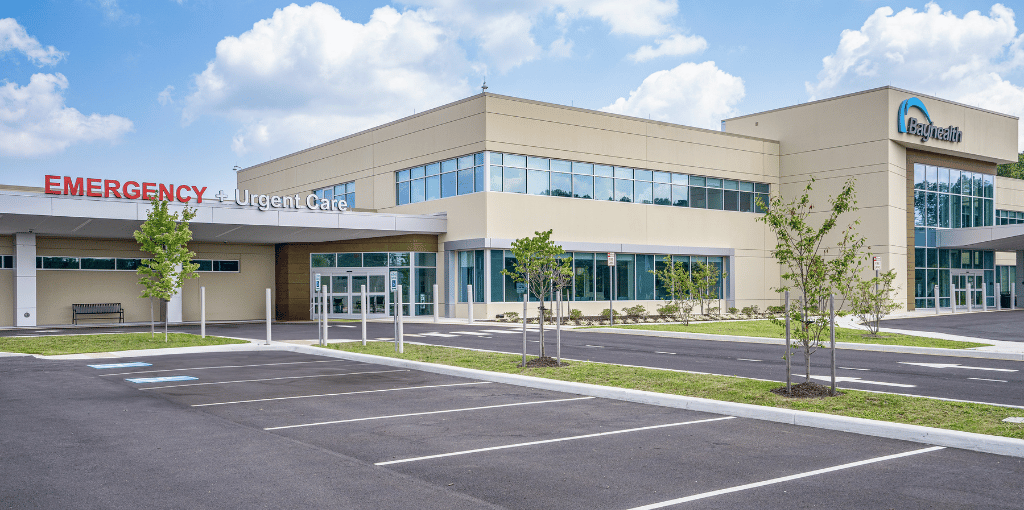 At Bayhealth Total Care's Emergency and Urgent Care Center, our primary goal is to provide the residents of Sussex County with exceptional service and the proper billing for the care they need. Our combined emergency room and urgent care in Milton is fully equipped to handle everything from allergies to chest pain 24/7 with on-site labs, x-ray, ultrasound and CT.
Every patient at our ER and urgent care walk-in clinic is seen by an ER-trained physician at every visit, regardless of the level of care they need. Our approach makes care more affordable by avoiding the higher cost of the emergency room if patients only require urgent care services. Our ER and urgent care clinic is open 24/7.
Bayhealth Total Care's Emergency and Urgent Care Center is located at 18383 Hudson Road, Milton, DE 19968.